Welcome
| | |
| --- | --- |
| | Introduction |
IKBS (Iterative Knowledge Base System) is a software workshop for the construction of knowledge bases. This knowledge discovery support system developed at IREMIA, stocks, processes, uncovers and transmits knowledge in domains where decision making requires expert analysis.

The protection of the environment has become a major concern for the new millenium. In the process of monitoring, managing and conserving our bio-diversity, experts have developed unique know-how in the classification of species. IKBS (Iterative Knowledge Base System) is a software workshop that brings together the knowledge of experts world-over, making it accessible to a wide range of users.

Key words : Knowledge base modeling description identification classification tele-systematics bio-diversity



| | |
| --- | --- |
| | Site Structure |
We have sub-divided our site into 7 basic areas, each represented by an icon on the home page. You are now exploring one of them. The other 6 are :



The IKBS page
By clicking on the Home Page logo, you'll find yourself on the IKBS page that offers a summary of the project and an entry into the system.
Presentation
This page retraces the development of the project, answering basic questions and clarifying necessary concepts. This section includes a multi-media presentation of IKBS.
Papers
This page allows you to visualize or to download publications with PDF (Portable Data Format), or PS (Post Script) formats.
Corals of the Mascarene Archipelago
IKBS is currently being applied to a project of coral identification in the Mascarene archipelago. Several pages illustrating the Pocilloporidae family may be consulted on this section of our site.
Links
Related sites and sites of interest are compiled on this page.
Members of the IKBS team
This page lists the different collaborators and organizations active in and/or responsible for the IKBS project.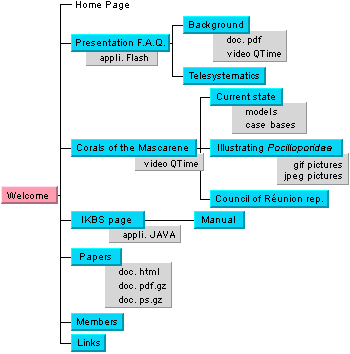 | | |
| --- | --- |
| | Navigating our site |
The tops of all our pages (except the Home Page) display a banner enabling the navigator to return to the home page by a single click. Other pages can be accessed through the same display. At the bottom, a menu enables you to select the different sections or return to the top of the current page.

The following table designates the navigation icons found on our site :
Sections
Icones
Use
Home page
Open a window with the site map
Publications




Return to the presentation page of the publication
Return to the first page of the publication
Go to the last page
Go to the next page
Illustrations Pocilloporidae
Put this page up front
Others



Put this page up front
Move this page to a selected chapter
Go to the selected page
| | |
| --- | --- |
| | Necessary tools |
Our site includes documents in different formats. In order to read certain of these documents, it is necessary to download shareware :
| | |
| --- | --- |
| | Your comments |
Comments ? Questions ? Want further information? Want to be kept up to date? We welcome your feedback. Please e-mail us at ikbs@univ-reunion.fr.





Have a nice visit!
- Equipe IKBS -



---
 [ Home Page | Corals of Mascarene | Top ]

© IREMIA - IKBS team - 11/2000